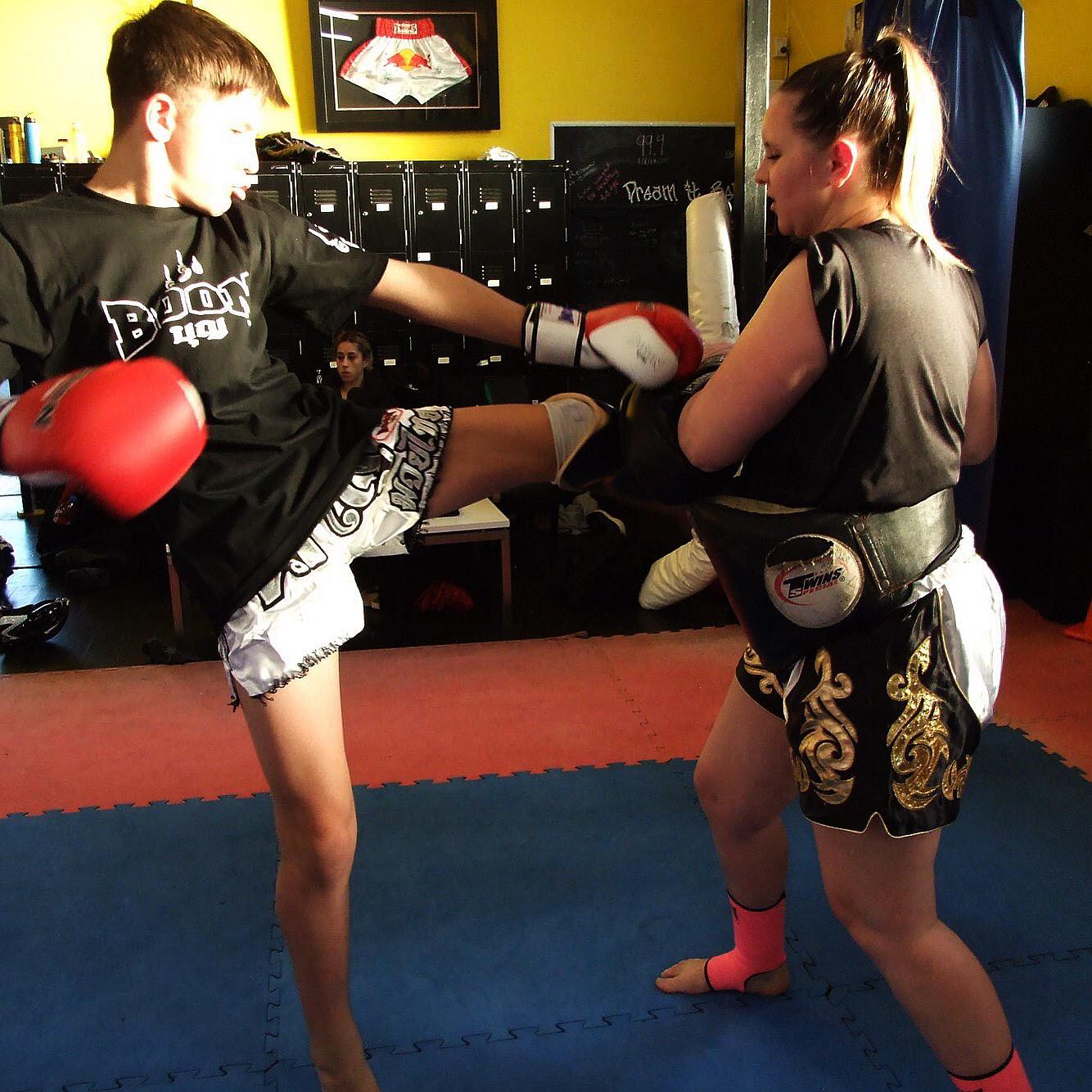 Even at first glance it's apparent Brad Morgan is no ordinary boy.  Besides the fact that at the age of 14 he fights Muay Thai with a passion some professional fighters only dream of, people would say he's had the odds stacked up against him.  But Brad has a different outlook on it. 
Brad Morgan was born in New Zealand with only three toes and a bone missing in his leg.  After a year, Brad's parents made the decision to get him a prosthetic leg in order to have better balance and less trouble walking.  Remarkably, Brad took to it very quickly and made it all seem so natural and effortless, "I just couldn't't balance on my original leg, so off it went! I had a prosthetic leg made and I started walking straight away.  To be honest it hasn't made anything difficult for me it's just normal since I've had it so long."
Brad first experienced Muay Thai when he was 9-years old in New Zealand.  After finding his love for the sport he persuaded his family to take him to Phuket, he tried the sport once and immediately took to it, not only with the sport but with his trainers and his camp. "The first time I trained Muay Thai I just instantly fell in love." explained Brad. "My training camp is basically my home and when I walked in I felt it from the first day, I didn't ever want to leave."
Amazingly, Muay Thai isn't the first contact sport that interested Brad, he actually started off doing Brazilian Jiu Jitsu at The Fight Shop NZ, run by Stew and Tasha Chambers.
"Brad is an amazing young man, who is strong willed and always gives his best whether training, competing or teaching", says Stew, with Tasha adding, "He strives to better himself every day through martial arts training and is an inspiration to everyone in our gym."
This power couple seems to be one of the components that has supported Brad to get where he is today. With Stew having trained multiple national title holders and Tasha being named one of the most accomplished combat sports referees in New Zealand, they have been the perfect fit to take Brad along his journey.  So far they've done an incredible job, with Brad having just won the Manawatu sports awards Jiu Jitsu code in New Zealand. 
The Fight Shop NZ team and Brad's family have also been helping with Brad's future plans of moving to Thailand and starting to work towards his ultimate dream, "my dream is to be a professional Muay Thai fighter and get a belt before I'm 16.  When I finish school I want to save for a bit and then make the move to Thailand for 2-3 years and just fight!"
Brad's mum, Helen, explained to us that not only is he an amazing individual as far as combat sports but he loves to help his peers and community, "Brad is very inspirational as he is very dedicated to his training and will spend hours a week at Fight Shop training and helping out in the children's class.  Brad consistently strives to be the best he can be and shows great sportsmanship qualities in both competition and the class environment. He has taught me to never give up on what I want to achieve because I'll make it if I'm committed to my goal."

There is no doubt that this impressive teenager is going places and could teach us all a thing or two about perseverance and continually fighting no matter what the obstacle.  While seeing Brad surrounded by a strong group to support him, it's very obvious this young man is a power house of his own, fueled by his passion and love for the sport. "My first time doing Muay Thai was life changing, I just loved the feel of being able to fight with all (three) of my limbs (excuse the pun).  Once I put the gloves on there was no looking back I wanted to turn it into a career!"
And there's no doubt in our mind that this kid is going places, with his eye on the prize and his goals on the horizon we cannot wait to see where this inspirational boy's journey will take him, and we hope to be right there, in the front seats cheering him on.