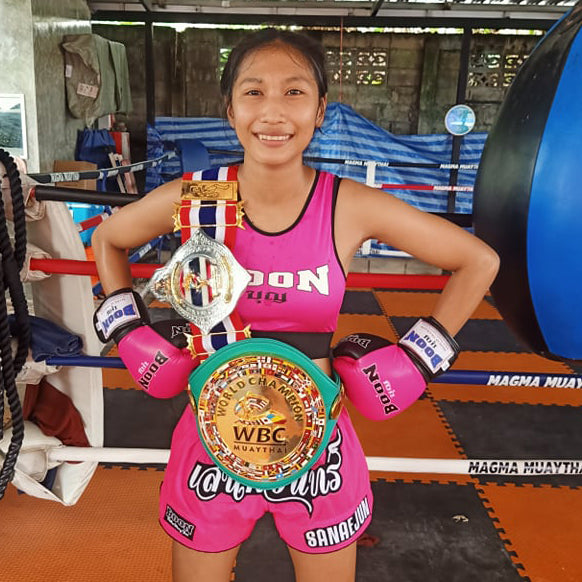 History was made on Sept 22 when Lumpinee stadium hosted their first female bout. The fight, between Buakaw MorKorChor Chaiyaphum and Sanaejan SorJor Tongpragym, was for both the Lumpini and WBC MT World Championship Belt, with the latter winning.

Seventeen-year-old Sanaejan, nicknamed Bam, hails from Chantanaburi in Eastern Thailand, having first fought at11, she's now a seasoned fighter with 54 bouts to her name. Training at home with her two siblings and her father as coach has immersed her in the sport.
Being the first female Lumpinee champion is a great honor for Bam, who says while her greatest weapon is her knee, it's 'heart' that has helped her achieve success.
"I always dreamt of being successful, but never thought I would come this far. I would like to encourage other females to be determined. Muay Thai is open to females, with determination and hard work we can achieve anything."
Bam's parents have always been supportive of her fighting career. "Women have the same potential as men. If big promoters and officials in Bangkok give females opportunities the sport will continue to grow and feature top level international female fights," says father and trainer Mr. Chani.
In her spare time, Bam is a normal teenager, enjoying TV and chatting with friends. Currently studying fifth year high school, she looks forward to schools reopening after months of closure due to covid.
While fighting is important, it's not Bam's only focus. She's looking forward to graduating and going to university. The past 18 months has been difficult with schools closed, however Bam has never had a problem rising to life's challenges.