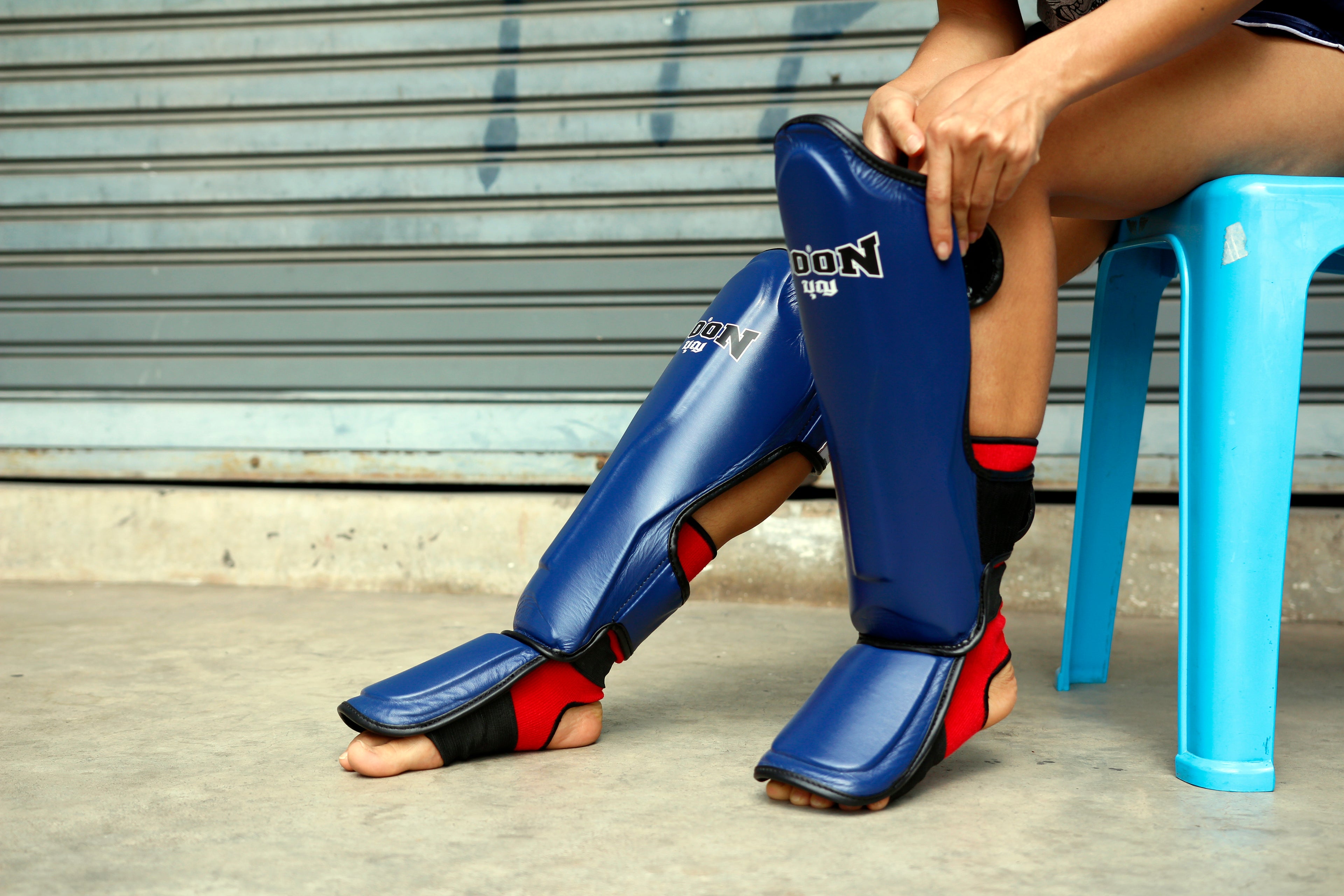 Muay Thai shin guards are an essential piece of equipment for anyone wanting to spar. They protect the legs from kicks and play a vital role in protecting your shins during training. 
This article is a comprehensive guide to protective Muay Thai shin guards for beginners, covering everything from the different types available to the features you should look for.
Why Should I Choose my Muay Thai Shin Guards Carefully?
When choosing a pair of protective Shin Guards, it's important to find a pair that fits well. A well-fitting pair shouldn't be too loose, as it can slip during training, while those that are too tight can be uncomfortable and restrictive. 
If you're not properly protected, sparring can lead to bruises and pain. That's where Muay Thai shin guards come in.
What are the Different Types of Muay Thai Shin Guard for Beginners?
There are two main types of shin guards:
These are normally leather with Velcro straps. The offer good protection during sparring.
These are used for amatuer Muay Thai competition and are much thinner than training shin guards. They are normally elastic fabric outer with a single layer of foam inside. 
What Should I Look Out For in Muay Thai Shin Guards?
The guards should cover the foot and entire shin, from the ankle to the lower knee, and should not be too loose or too tight.
They can range in price from relatively cheap to quite expensive. It is important to find a pair that is within your budget, but is also durable with the features and level of protection you require.
Muay Thai training shin guards come in a variety of styles, but all serve the same basic purpose: to protect your legs from impact. Below, you'll find what you need to look out for in your first pair of protective guards. 
Padding:

The padding is one of the most important features of shin guards, as it is this that will protect your legs from the kicks of your opponents. Today most shin pads have an extra layer of padding along the shin.

Straps:

The straps of pairs are important, as they will keep the guards in place during training. Velcro is most widely used.

Material:

Top quality training shin pads should be leather and contain several layers of foam for impact absorption. 

Size:

Make sure you select the right size shin guard, so they don't slip during training. A good guard should be easy to take off, as well as to put on. Also, they need to fit nicely without being too tight, otherwise, your mobility will become limited. If you're unsure of your size, referring to a sizing chart is necessary. 

Price:

Protective guards range from cheap to expensive. It depends on the style, brand, and material you opt for. Typically, a well-built pair can last a Muay Thai fighter for many years, depending on the training conditions.
Final Thoughts
To sum it up, Muay Thai shin guards are a requirement for anyone serious about training in the sport. They protect your legs from impact and come in a variety of styles to suit your needs and budget. When choosing a pair, it's important to find a pair that fits well and maximizes protection for your shins.
Beginners may find Boon Store useful, as it includes a range of protective Muay Thai gear tailored for beginners. Their guards are made using premium materials and are long-lasting. They're designed to maximize protection and mobility without compromising on their sizes.