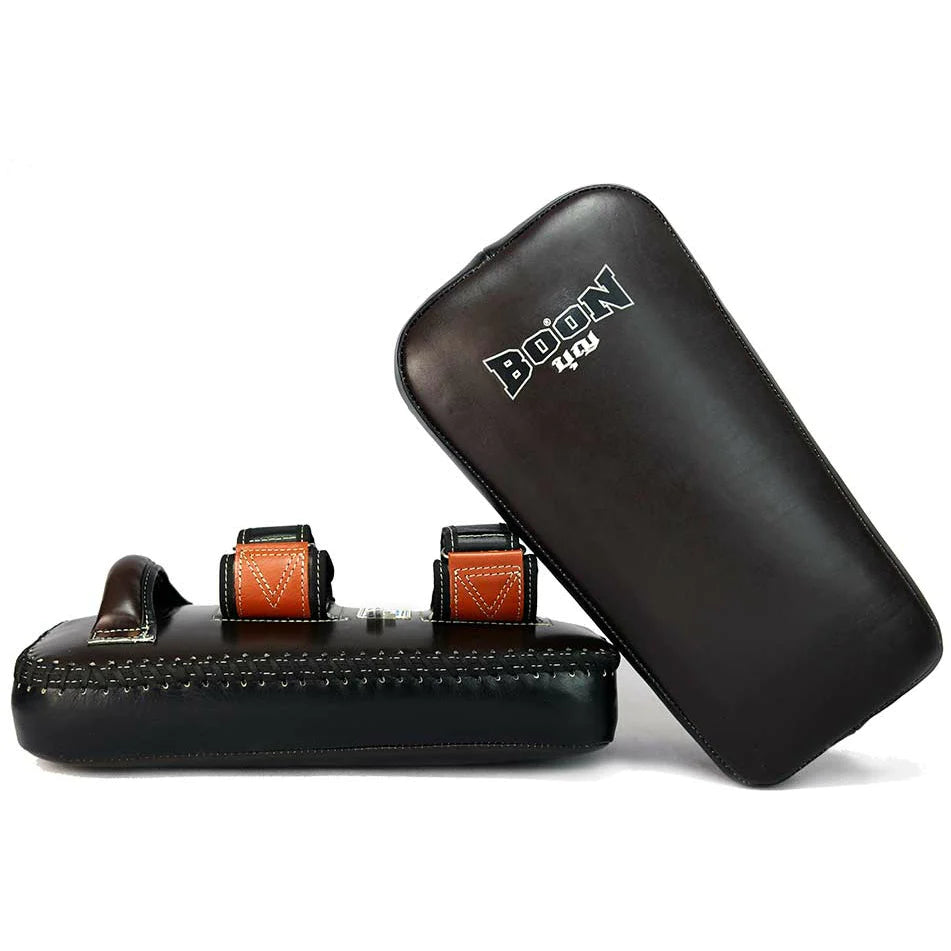 Muay Thai Kick Pads: Buying Guide
Muay Thai fighters need protection in the ring. While offering feet and shin protection when sparring, A pair of Muay Thai kick pads assists a boxer by enhancing their power and precision. In this buying guide, we will talk about the different materials they're made from, the different sizes available, and the types you can opt for.
What are Muay Thai Kick Pads Made From?
Typically, companies use buffalo leather or synthetic material in their products, which isn't long-lasting or durable. These materials tear easily, and people end up having to resort to purchasing replacements.
Boon Sports use cowhide in their Muay Thai Kick Pads, as it's a more durable solution to buffalo leather. Additionally, their pads come with 9 layers of padding to take protection to the max - without compound foam.
Many companies still use buffalo leather, but it can easily tear and may be uncomfortable in the long run.
What are Muay Thai Kick Pads Types?
When it comes to the different types of Muay Thai Kick Pads, there are three best options:
KPV Flat Kick Pads:

The main feature of KPV flat kick pads is its buckle fastening feature - a feature preferred by trainers. Their 9 layers of padding allow for high absorption within the product, raising protection to high levels.
CKPM Curved Kick Pads:

CKPM curved kick pads fits in line with your arm for ease of holding. They're soft enough to withstand hard punches, while improving impact absorption for kicks and knees. Additionally, they're lighter than traditional pair of Muay Thai kick pads - making them easier to carry and increasing mobility. Another one of their features is a soft spot on top of the pad, allowing for trainers to jab.
NKPB New Kick Pads

: NKPB kick pads are designed for softer impact, with no hard edge. Like KPB pads, they have 9 layers of padding and an easy-to-use buckle for speedy preparation and removal.
What are the Sizes of Muay Thai Kick Pads?
If you want Thai kick pads that offer the most protection, you should choose a larger size. However, if you are looking for a Kick Pad that is lighter and easier to carry, you should opt for a smaller size.
When it comes to the different sizes of Muay Thai Kick Pads, there are three main types:
Small:

Small Muay Thai Kick Pads are typically used by children or those with smaller feet. They offer less coverage than the other two types but are still padded enough to protect your shins and feet.
Medium:

Medium Muay Thai Kick Pads are the most common size. They offer a good amount of coverage and padding, making them ideal for most people.
Large:

Large Muay Thai Kick Pads are designed for those with larger feet or needing more coverage. The best large pads are made from cowhide and offer a lot of padding.
No matter what size you choose, it is good to make sure that it is made from a durable material, like cowhide, that can withstand a lot of use.
Final Thoughts
A pair of Muay Thai kick pads are a great way to take your training to the next level. With proper use, they can help you develop power, accuracy, and leg strength
Boon boxing kick pads are dependable, well-made, and durable. While being ethically made with high-quality materials, they're built to last a lifetime. Unlike other brands, Boon Sports crosses premium materials like top-grain cowhide with an everyday boxer's needs.
FAQS
Where to Buy Muay Thai Kick Pads?
A pair of kick pads can be bought at any Muay Thai shop, but finding a durable, long-lasting, and high-quality pair can be challenging. The best place to find products fitting that description is Boon Sports.
How to Use Muay Thai Kick Pads?
Once you have your pads, put them on like you would a pair of socks. Make sure the pads are covering your shins completely and that the straps are tight but not too tight.